I caught this on TV last night. For some reason this film had slipped under my radar until now. I think I might have half-heartedly dismissed it as a Dracula film some time ago…
But it's not. It's a John Carpenter film and not a very good one. If I could be arsed I'd spend a couple of paragraphs talking about when and how John Carpenter lost it. And when. And why? Perhaps it's just, as Sickboy's theory in Trainspotting goes, we all get old and then we can't hack it anymore. Apart from old Blues musicians. And Helen Mirren.
And so to the film. Donald Pleasence is in it, which is good. He's a priest who discovers a huge canister with some green 80's special effects glowing inside. This isn't a good thing. In fact, it's the devil!
DISCLAIMER – OR IS IT THE DEVIL? I'M NOT TOO SURE. TO BE HONEST A LOT OF THIS FILM CONFUSED ME. WHAT IT WAS DOING THERE AND WHY IT WAS ABLE TO DO WHAT IT DID AND… WELL, MAJOR PARTS OF THE PLOT LIKE THAT. MAYBE IT WAS ME, IT WAS LATE AS I SAID, BUT…
…anyway, the priest calls in some sub-atomic-or-something scientists and students to set up home in the church, install lots of their equipment and analyse the devil-canister and translate old scripts and all that sort of stuff. Some spooky homeless people, led by Alice Cooper, stare at the church from the pavement (or 'sidewalk').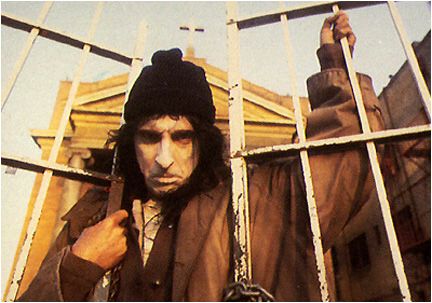 The rest of the film relies on people wandering off on their own, nobody checking on them, nobody deciding to guard the devil-canister, nobody calling the police to remove the staring hobos outside, nobody – including me – apparently knowing what the hell is going on.
The film ends with three different groups of people split up from each other, watching and waiting while the possessed parts of the group do some stuff, again for reasons I can't explain – why does one woman appear to be pregnant? Why is the large black guy laughing and crying and staring at a mirror? Why are two of the girls standing outside the Chinese guy in the closet? (He's gay, but there's no time for me to make a pun).
The film ends, mercifully, when one of the possessed tries to pull the devil through a mirror (or maybe not the devil. If the devil's in the canister. Oh, I dunno) and one of the good non-possessed girls rushes at her and they both fall through the mirror, which Donald Pleasence smashes. Game Over.
Then there's a jump-fright ending where the hero wakes up and something horrible's next to him. He goes over to touch his mirror… credits roll.
THE END
Right, now I'm going over to IMDB to find out what was going on, then I'll come back, change all this to make myself look more intelligent. See you soon!